yarn base information
MOHAIR
•72/28% mohair/silk
•459 yds/50g - single ply
SURI LACE
•74/26% suri alpaca/silk
•328 yds/50g - single ply
CLASSIC SOCK
•100% superwash merino wool
•400 yds/100g - 2 ply
NYLON SOCK
•80/20% superwash merino wool/nylon
•400 yds/100g - 2 ply
STELLINA SOCK
•75/20/5% Superwash Merino/Nylon/Gold Stellina
•438 yds/100g - 2 ply
CASHMERE SOCK
•80/10/10% superwash merino wool/cashmere/nylon
•435 yds/100g - 4 ply
SILK SOCK
•50/50% superwash merino wool/silk
•438 yds/100g - 4 ply
CLASSIC SPORT
•100% superwash merino wool
•328 yds/100g - 3 ply
CLASSIC DK
•100% superwash merino wool
•231 yds/100g - 4 ply
STELLINA DK
•75/20/5% Superwash Merino/Nylon/Gold Stellina
•231 yds/100g - 4 ply
CASHMERE DK
•80/10/10% superwash merino wool/cashmere/nylon
•231 yds/100g - 4 ply
SILK DK
•50/50% superwash merino wool/silk
•231 yds/100g - 4 ply
CLASSIC WORSTED
•100% superwash merino wool
•218 yds/100g - 4 ply
CLASSIC BULKY
•100% superwash merino wool
•106 yds/100g - 2 ply
yarn base information
MOHAIR
•72/28% mohair/silk
•459 yds/50g - single ply
SURI LACE
•74/26% suri alpaca/silk
•328 yds/50g - single ply
CLASSIC SOCK
•100% superwash merino wool
•400 yds/100g - 2 ply
NYLON SOCK
•80/20% superwash merino wool/nylon
•400 yds/100g - 2 ply
STELLINA SOCK
•75/20/5% Superwash Merino/Nylon/Gold Stellina
•438 yds/100g - 2 ply
CASHMERE SOCK
•80/10/10% superwash merino wool/cashmere/nylon
•435 yds/100g - 4 ply
SILK SOCK
•50/50% superwash merino wool/silk
•438 yds/100g - 4 ply
CLASSIC SPORT
•100% superwash merino wool
•328 yds/100g - 3 ply
CLASSIC DK
•100% superwash merino wool
•231 yds/100g - 4 ply
STELLINA DK
•75/20/5% Superwash Merino/Nylon/Gold Stellina
•231 yds/100g - 4 ply
CASHMERE DK
•80/10/10% superwash merino wool/cashmere/nylon
•231 yds/100g - 4 ply
SILK DK
•50/50% superwash merino wool/silk
•231 yds/100g - 4 ply
CLASSIC WORSTED
•100% superwash merino wool
•218 yds/100g - 4 ply
CLASSIC BULKY
•100% superwash merino wool
•106 yds/100g - 2 ply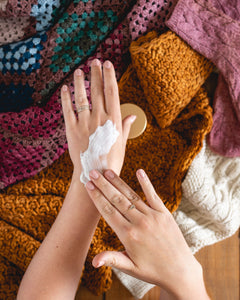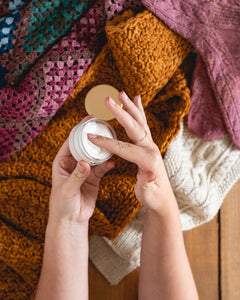 Gorgeous!!!!
Beautiful yarn that is so beautifully and thoughtfully curst d! I love Sewrella yarn 🧶
My absolutely favorite hand cream
My initial thoughts on this hand cream: "How much better can it possible be..?"
My current thoughts on this hand cream: "I will do whatever it takes to use this hand cream, and only this hand cream, until I die."
Okay that's a little melodramatic BUT this hand cream is every bit as wonderful as everyone says it is. I'm fairly confident that I have about 75% of the scents that have been released since I first started purchasing from Sewrella. My favorites are Autumn in New York (AINY collection '22 and '23), Rest (Knitflix collection '22), Home (Fall Market), and Peony Petals (Spring Market). Warm Cashmere is also up there which is perfect because that on is always available! My hands feels soft and moisturized, and the scent lasts for ages without being overpowering. All in all this is my new favorite hand cream and also a go-to gift.
Autumnal bliss
This is my second order of Sewrella hand cream—since I knew I loved it, I ordered two containers of the Home autumnal scent. It's lovely and smooth. The apple is a bit less prominent than I'd like, but it absorbs so quickly and avoids dry hands for knitting. Believe the hype!
Hand cream is quick absorbing and very smooth. I ordered the Home scent and was smelling my hands all day, it's not overpowering though, soft and nostalgic. I am obsessed.
My new favorite hand cream!
I love how this cream feels so smooth and silky. It makes knitting a dream
these made us think of you